[CASE STUDY] Discover companies that drive organic FREE Google traffic to websites like e-commerce without major traffic increase from social media, Instagram, and Facebook.  This ~175% increase in organic free traffic was done…
WITHOUT adding new content…
WITHOUT creating new back-links…
WITHOUT adding new guest posts…
WITHOUT creating new citations…
WITHOUT using paid (e.g. SEMRush.com) or free (e.g. Google Keyword Planner) keyword research software tools…
What was done?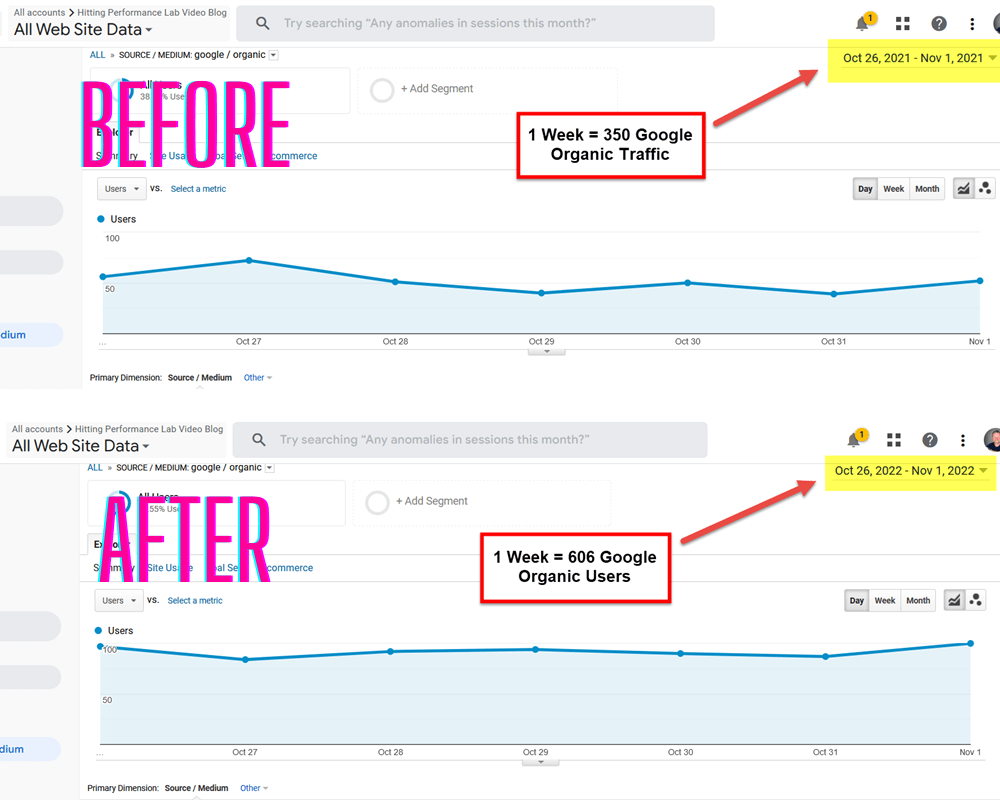 The website (https://hittingperformancelab.com/) is in the baseball and softball hitting niche.  All we did was change the:
Blog post title,
Introductory paragraph, and
Added some relevant tags.
That's it!  PLEASE NOTE: the latter isn't necessary for the effect.  There are almost 400 blog posts on this website and we were changing 5-6 posts per week in the year span.  To date, we're almost at 200 blog posts updated.
We use a unique process that most traditional SEO types don't understand.  We look for low competition, high traffic opportunities.  40-50% of traffic MUST BE coming in organically from Google.  Companies cannot survive in the long run locally or online if this isn't the case.
And if you're advertising on Google, Facebook, and or Amazon that's great, but if you don't have much of an organic traffic "ground game", then you're paying to push your prospects to your competitors.  Why?  People are doing their research primarily on Google!
We at EnFuegoMedia and Lead Generation SEO Services are REALLY good at the Google ground game, and we don't have competition thanks to our unique process of AI, software automation, and fantastic writers.
This tip-of-the-iceberg case study was done with a small niche site.  I haven't talked about how we create multimedia content and use media distribution to over 400 websites (FOX, ABC, CBS) in our Marketing Events, to get our clients more clients.  Imagine what we could do if you're in finance (including crypto), real estate, any service based industry like plumbing, dental, electricians, e-commerce, and health and wellness.
Here's a video ad we did targeting Dental Offices…
If you're a local or online business interested in seeing how all this works, then CLICK HERE to watch a non-gated 3-4 minute video on our Marketing Events.  Remember, traffic you get from Google is free, but paying experts like ourselves is not.  However, the ROI on content marketing PLUS media exposure versus paid advertising is MUCH better and longer lasting.  You can expect a 2-3x increase in clients/patients/customers, while cutting marketing costs in half!
About EnFuegoMedia & Lead Generation SEO Services…
We are media and company growth strategy specialists.  How we can help your business: